Russian Circles & Chelsea Wolfe European tour starts October 12th - Memorial Video of the Tour Poster printing
Sargent House presents: Russian Circles & Chelsea Wolfe on tour together in Europe. Each band will be playing full length sets both in support of their new albums "Memorial" and "Pain Is Beauty". Above is a video of the silk screen poster process of the making of their European tour posters (available in limited numbers on tour only). Designed by Error Design with music by Russian Circles featuring Chelsea Wolfe on vocals from the album's title track "Memorial".

See All RUSSIAN CIRCLES SHOW DETAILS HERE



RUSSIAN CIRCLES, CHELSEA WOLFE — EU 2013 TOUR
Oct 12, 2013 — Prague, CZ @ Meet Factory
Oct 13, 2013 — Linz, AT @ Posthof
Oct 14, 2013 — Bologna, IT @ Locomotiv Club
Oct 15, 2013 — Zurich, CH @ Rote Fabrik
Oct 16, 2013 — Fribourg, CH @ Fri-son
Oct 18, 2013 — Barcelona, ES @ Apolo
Oct 19, 2013 — Madrid, ES @ Shoko Live
Oct 20, 2013 — Porto, PT @ Amplifest
Oct 21, 2013 — Bilbao, ES @ Kafe Antzokia
Oct 23, 2013 — Paris, FR @ Divan Du Monde
Oct 24, 2013 — Brighton, UK @ The Haunt
Oct 25, 2013 — Manchester, UK @ Gorilla
Oct 26, 2013 — Glasgow, UK @ SWG3
Oct 27, 2013 — Dublin, IRE @ Button Factory
Oct 29, 2013 — London, UK @ Electric Ballroom
Oct 30, 2013 — Gent, BE @ Vooruit
Oct 31, 2013 — Karlsruhe, DE @ Jubez
Nov 1, 2013 — Utrecht, NI @ Tivoli de Helling
Nov 2, 2013 — Koln, DE @ Stollwerck
Nov 3, 2013 — Hamburg, DE @ Club Logo
Nov 5, 2013 -  Stockholm, SE @ Debaser Strand
Nov 6, 2013 — Helsinki, FIN @ Tavastia
Nov 7, 2013 — Oslo, NO @ Bla
Nov 8, 2013 — Gothenburg, SE @ Truckstop Alaska
Nov 9, 2013 — Copenhagen, DK @ KB18
Nov 10, 2013 — Berlin, DE @ C- Club

RUSSIAN CIRCLES  ONLY
Nov 11, 2013 — Dresden, DE @ Beatpol
Nov 13, 2013 — Vienna, AT @ Szene
Nov 14, 2013 — Budapest, HU @ Durer Kert
Nov 15, 2013 — Belgrade, SR @ Club Fest
Nov 16, 2013 — Zagreb, HR @ Mochvara Club
Nov 17, 2013 — Munich, DE @ Feierwerk
Nov 19, 2013 — Moscow, RU @ B2
Nov 20, 2013 — St. Petersburg, RU @ Club Zal
---
Ghost Cult interview with Brian Cook about Memorial
For several years Chicago Post Metal instrumental act Russian Circles have been constantly charming us with their long winding complex compositions. With Memorial (Sargent House), their new album, they have taken a step in a different direction, moving from long epochs to shorter numbers that swing between the two extremes of emotion blended in their sound. Ghost Cult decided to have a chat with bassist Brian Cook.
What was the process of creation for this new album like, was it different from earlier albums?
In some ways, the creative process for this record was very similar to our older records. Mike wrote a bunch of parts, he and Dave worked out some arrangements, they sent me some rough recordings, then we all jammed together and totally reworked the songs. Over the course of the last several records we learned that we like to have enough time in the studio to make changes to the songs once we hear them back, so we allotted ourselves plenty of studio time so that we could make the inevitable edits. The process was different this time around in that we all knew how malleable the material was. We knew that things would take a different shape in the studio. One could say that we were less prepared for Memorial than any of our other albums, but I think the more appropriate assessment would be that we were just way more flexible with the material we had on hand. The songs changed dramatically in the studio—more so than on past records.
---
1777, another new track from Memorial now streaming
---
Rolling Stone Premiere: Memorial featuring Chelsea Wolfe
Chicago three-piece Russian Circles, known for their massive instrumental rock concoctions, are set to release their fifth LP, Memorial, on October 29th on Sargent House. Bassist Brian Cook calls the record "straightforward, intense, heavy," adding, "We subconsciously gravitated toward darker and more somber sounds. We wanted to get away from the overtly flashy."

The LP is available here for pre-order as part of a bundle that includes a poster, T-shirt and the music on disc or colored vinyl, and you can listen to the gorgeous song "Memorial," a slow-burning meditative number that features guest vocals from singer and songwriter Chelsea Wolfe.
"We've toured with Chelsea and are all big fans," Cook says. "We felt like her work and what we do is stylistically different, but thematically it fits. We're both more sad and grind-you-into-the-dirt-with-misery. We went through so many permutations of that song, we got into this idea of doing a reprise like one of those albums that starts off and ends at the same spot. Like Pink Floyd's Animals: open with a stripped down version of the song and end with the full band song."
---
Russian Circles Rig Rundown with Mike Sullivan & Brian Cook
PG's Jordan Wagner is on location at Electrical Audio Studios in Chicago, where catches up with Russian Circles' Mike Sullivan and Brian Cook during the recording of their fifth album, Memorial. The duo reveals a close-up look at their studio guitar and bass rigs, which combine the gear they use live with numerous other pieces from their own personal collections and Electrical Audio's gear
coffers.

Mike Sullivan's Gear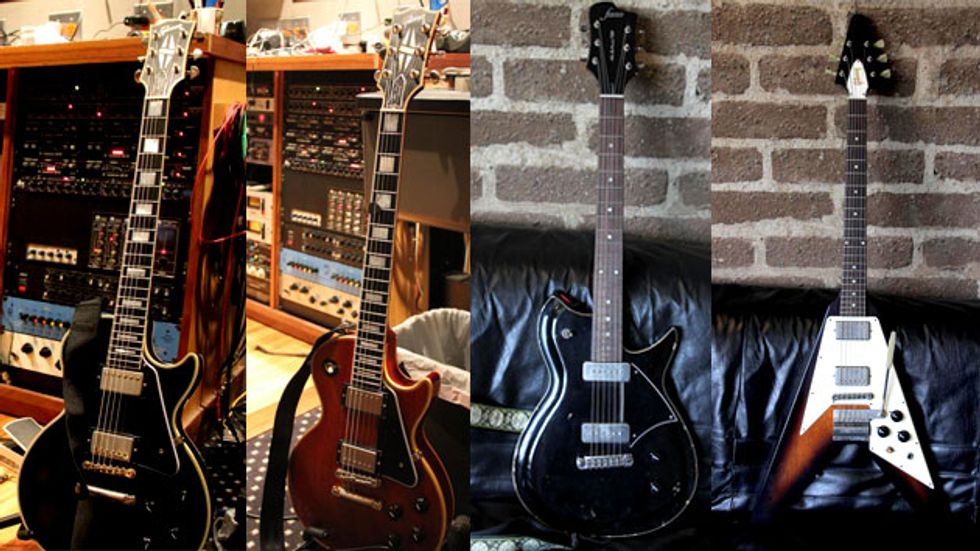 ---
Russian Circles cover story and feature interview in the August/September 2013 issue #45 of Rock A Rolla Magazine out now.

---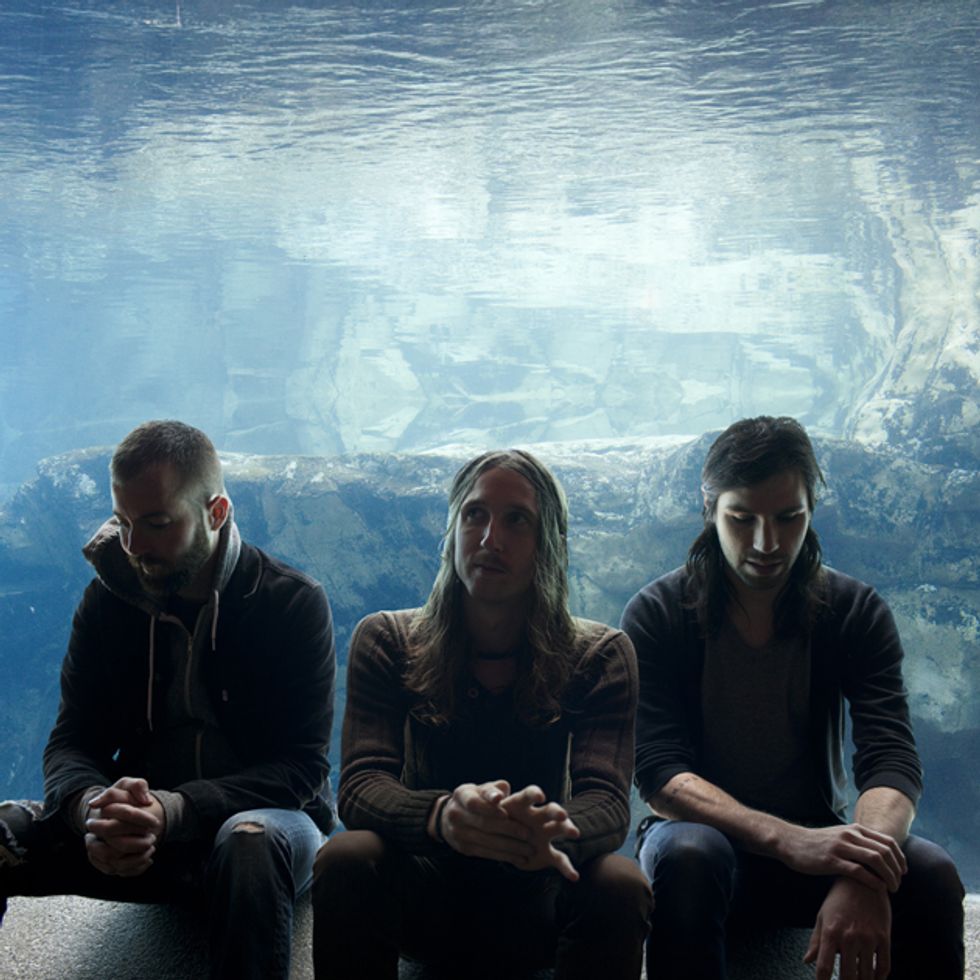 Chicago's prog power trio Russian Circles' consists of bassist Brian Cook,
guitarist Mike Sullivan, and drummer Dave Turncrantz.
Last spring, in an unassuming building on Chicago's West Belmont Street, acclaimed instrumental rockers Russian Circles were busy crafting their fifth studio album, Memorial. They developed their new opus in Studio A of Steve Albini's Electrical Audio Studios, which offers three tracking spaces: Center Field, the Kentucky Room, and the Alcatraz Room.
Each room is specifically designed to help capture tones associated with particular instruments. The spacious Center Field room provided natural acoustics for Dave Turncrantz's drums, and the Kentucky Room's liveliness made it ideal for guitarist Mike Sullivan's dark-sounding amp setup. Brian Cook's bass rig sat in the controlled isolation of the Alcatraz Room, which uses a brilliant combination of perimeter venting and membrane absorbers to deaden the space.

---
Brian Cook "Going off Track" the Podcast

Click above to download or stream Brian Cook playing tunes and talking music with Jonah Bayer and Steven Smith for their podcast Episode 72 of Going off Track.

---
$5 Album Sale Russian Circles & Chelsea Wolfe Tour together and both release New albums
To celebrate the upcoming European tour together and the new albums coming from both Russian Circles and Chelsea Wolfe - Sargent House has made both bands last albums only $5 each in any file size you like all this weekend starting today - Thursday, August 22nd - Sunday, August 25th.



Pre-Order the NEW album "Memorial" by Russian Circles HERE
Release date: October 29, 2013
Featuring vocals by Chelsea Wolfe on the title track "Memorial"
---
SoundFuse Live Review // Russian Circles at Ultra Lounge // Brooklyn Vegan Lollapalooza After Show
This show appeared out of nowhere. I always keep my eyes on Russian Circles and see them whenever they play in Chicago, so I usually know their shows are coming months ahead of time. This time around it was a tweet from Sargent House (RC's label) and an email from openers An Aesthetic Anaesthetic nearly simultaneously just days before the show. Needless to say, my after-party plans for Lollapalooza's Saturday night were set immediately. It was a strange Lolla after-show considering neither of these bands played the festival, yet it was a great addition to the entire scope of the weekend's musical palate. The closest thing I saw to either of these bands at the fest was Queens Of The Stone Age and they're only close in a sense of energy, not genre or style. In other words, this was exactly the kind of show I needed after this day at Lolla. Variety is the spice of life, kids, remember that.
---
Pre-Order for Memorial are now live

Russian Circles new album Memorial is now up for pre-order at the band's store on CD or on Vinyl in gate-fold jacket w/ download card - sold separately or as part of a bundle. The album will be released on October 29, 2013 but all pre-orders will ship a week before release. The details on the first vinyl pressings are: in America we have limited to 500 of each color : clear or translucent steel grey ( will not be available in stores) or black which will not be limited to first pressings. In Europe we pressed limited 1k in grey and 1k in black the band will have these available on their EU Tour this fall. - SEE ALL TOUR DATES

The photograph on the album, T-shirts and poster is by Ryan Russell and the layout for the packaging was all done by close friend David Knudson.

GO TO RUSSIAN CIRCLES STORE FOR PRE-ORDER

Hear a new track "Deficit" from the album Memorial below
---
Russian Circles release fifth LP "Memorial" on October 29th and add more EU dates to Tour
Russian Circles fifth LP entitled Memorial will be released worldwide via Sargent House on October 29, 2013. See full press release about the album HERE.  In support of the new album they will do an extensive European tour with label mate Chelsea Wolfe on the bill with each band playing full length sets each night. Chelsea Wolfe also appears on the new album's title track Memorial.  Below you can stream the track "Deficit" - Pre Orders for Vinyl, CD and digital will be announced soon.


Russian Circles – Memorial
Tracklisting:
01. Memoriam
02. Deficit
03. 1777
04. Cheyenne
05. Burial
06. Ethel
07. Lebaron
08. Memorial (featuring Chelsea Wolfe on Vocals)

SEE FULL RUSSIAN CIRCLES SHOW DETAILS HERE


RUSSIAN CIRCLES, CHELSEA WOLFE – EU 2013 TOUR
Oct 12, 2013 – Prague, CZ @ Meet Factory
Oct 13, 2013 – Linz, AT @ Posthof
Oct 14, 2013 – Bologna, IT @ Locomotiv Club
Oct 15, 2013 – Zurich, CH @ Rote Fabrik
Oct 16, 2013 – Fribourg, CH @ Fri-son
Oct 18, 2013 – Barcelona, ES @ Apolo
Oct 19, 2013 – Madrid, ES @ Shoko Live
Oct 20, 2013 – Porto, PT @ Amplifest
Oct 21, 2013 – Bilbao, ES @ Kafe Antzokia
Oct 23, 2013 – Paris, FR @ Divan Du Monde
Oct 24, 2013 – Brighton, UK @ The Haunt
Oct 25, 2013 – Manchester, UK @ Gorilla
Oct 26, 2013 – Glasgow, UK @ SWG3
Oct 27, 2013 – Dublin, IRE @ Button Factory
Oct 29, 2013 – London, UK @ Electric Ballroom
Oct 30, 2013 – Gent, BE @ Vooruit
Oct 31, 2013 – Karlsruhe, DE @ Jubez
Nov 1, 2013 – Utrecht, NI @ Tivoli de Helling
Nov 2, 2013 – Koln, DE @ Stollwerck
Nov 3, 2013 – Hamburg, DE @ Club Logo
Nov 5, 2013 -  Stockholm, SE @ Debaser Strand
Nov 6, 2013 – Helsinki, FIN @ Tavastia
Nov 7, 2013 – Oslo, NO @ Bla
Nov 8, 2013 – Gothenburg, SE @ Truckstop Alaska
Nov 9, 2013 – Copenhagen, DK @ KB18
Nov 10, 2013 – Berlin, DE @ C- Club
RUSSIAN CIRCLES  ONLY
Nov 11, 2013 – Dresden, DE @ Beatpol
Nov 13, 2013 – Vienna, AT @ Szene
Nov 14, 2013 – Budapest, HU @ Durer Kert
Nov 15, 2013 – Belgrade, SR @ Club Fest
Nov 16, 2013 – Zagreb, HR @ Mochvara Club
Nov 17, 2013 – Munich, DE @ Feierwerk
Nov 19, 2013 – Moscow, RU @ B2
Nov 20, 2013 – St. Petersburg, RU @ Club Zal
---
---
Russian Circles Announce European Fall Tour with Chelsea Wolfe
Both Russian Circles and Chelsea Wolfe will have new albums coming out this fall on Sargent House - Chelsea Wolfe's "Pain Is Beauty" will be released on September 3rd and Russian Circles - (Title to be announced) will be coming at the the end of October. For all of their European shows both bands will each be playing full headline length sets.

Russian Circles North American headline tour is currently being planned for Early 2014.

RUSSIAN CIRCLES & CHELSEA WOLFE // EUROPE 2013
Oct 12, 2013 – Prague, CZ @ Meet Factory
Oct 13, 2013 – Linz, AT @ Posthof
Oct 14, 2013 – Bologna, IT @ Locomotiv Club
Oct 15, 2013 – Zurich, CH @ Rote Fabrik
Oct 16, 2013 – Fribourg, CH @ Fri-son
Oct 18, 2013 – Barcelona, ES @ Apolo
Oct 19, 2013 – Madrid, ES @ Shoko Live
Oct 20, 2013 - Porto, PT @ Amplifest
Oct 21, 2013 – Bilbao, ES @ Kafe Antzokia
Oct 23, 2013 – Paris, FR @ Divan Du Monde
Oct 24, 2013 – Brighton, UK @ The Haunt
Oct 25, 2013 – Manchester, UK @ Gorilla
Oct 26, 2013 – Glasgow, UK @ SWG3
Oct 27, 2013 – Dublin, IRE @ Button Factory
Oct 29, 2013 – London, UK @ Electric Ballroom
Oct 30, 2013 – Gent, BE @ Vooruit
Oct 31, 2013 – Karlsruhe, DE @ Jubez
Nov 1, 2013 – Utrecht, NI @ Tivoli de Helling
Nov 2, 2013 – Koln, DE @ Stollwerck
Nov 3, 2013 – Hamburg, DE @ Club Logo
Nov 6, 2013 – Helsinki, FIN @ Tavastia
Nov 7, 2013 – Oslo, NO @ Bla
Nov 8, 2013 – Gothenburg, SE @ Truckstop Alaska
Nov 9, 2013 – Copenhagen, DK @ KB18
Nov 10, 2013 – Berlin, DE @ C- Club

See all CHELSEA WOLFE Shows & Details HERE
See all RUSSIAN CIRCLES Shows & Details HERE



---
---
---